Garage Door Repair MD DC VA
Diamond Garage Doors is a qualified local garage door contractor serving Maryland, Virginia and the Washington DC Metro area for residential or commercial garage door needs. Our highly trained technicians can help you with anything you need. Be it a new door, a replacement door, repairs, or accessories, we have you covered.
If you have an EMERGENCY, call us right away. We have trucks on standby ready to serve you.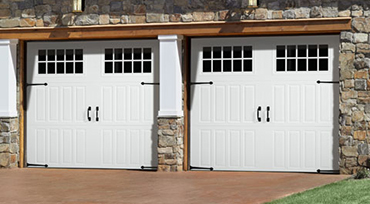 Services
Garage Door Remote Openers
Broken Cables
Jammed Doors
Broken Hardware
Broken Openers
Broken Springs (Torsion Springs)
Garage Door Maintenance
Spring Repair and Replacement
Garage Door Wheels
Garage Door Operators
1-, 2-, or 3-Button Transmitters, Openers
Keyless Entry Systems for Select Brands
Entry Pads
And more…
Garage Door Issues
Door won't close
Door won't open
Squeaky/Noisy doors
Broken Hinges
Bent track
Broken Spring replacement
Install Row of Windows
Sections
Section replacement
Worn or Broken Cables
Worn or Bent Rollers
Weather or Dented Panels
Out-Of-Style
And more…
Garage Door Opener Issues
New Opener
Photo Safety Sensors
Noisy Openers
Door won't close
Door won't open
Grinding Noises
Wires Hanging
Opener lights just blink
Remote Controls
Worn out Gears
Logic Boards
Loose or hanging chains
Not Powering On
And more…
Diamond Garage Doors offers expert service in the following specific and surrounding areas.
Northern Virginia - Prince William County - Fairfax County – Washington DC
Alexandria
Arlington
Alexandria
Aquia Harbour
Arlington
Ashland
Belmont Bay
Bristow
Buckhall
Burke Station
Catlett
Centreville
Chantilly
Clifton
Dale City
Dumfries
Falls Church
Gainesville
Great Falls
Groveton
Haymarket
Herndon
Independent Hill
Kings Park
Lake Ridge
Linton Hall
Lorton
Manassas
Manassas Park
McLean
New Baltimore
Nokesville
Oak Hill
Occoquan
Quantico
Reston
Sudley Manor Area
Triangle
Tysons Corner
Vienna
Vint Hill
West Springfield
North Springfield
Wakefield
Woodbridge
Woodson
Yorkshire
Surrounding areas
Montgomery County – Prince Georges County – Maryland
Aldephi
Annapolis
Baltimore
Bealsville
Beltsville
Berwyn Heights
Bethesda
Bladensburg
Bowie
Calverton
College Park
Crofton
East Riverdale
Edgewater
Fort Meade
Glen Burnie
Greenbelt
Hyattsville
Landover
Landover Hills
Lanham
Laurel
Mt. Ary
New Carrolton
Potomac
Rockville
Springdale
Towson
Upper Marlboro
Jun 15, 2020
A Very Good Job
City & State:
Clinton, MD
They did a very good job. They were professional and seemed to be very knowledgeable. The timing was good.

I don't remember the price. If I had to get garage doors again, I would certainly hire them.

Description of work:

They installed a garage door for me.
Nov 26, 2019
Garage Door Repair
City & State:
Silver Spring MD
E-mailed Diamond Garage Doors for a 2nd opinion. Jon called me a couple of hours later with a quote much less then Sears. Jon came out same day and replaced only what was needed. Saved $300.00. We will definitely call them to put in a door opener in our other garage.
Oct 19, 2019
Pleasant Surprise!
Jon knows garage doors and openers! He quickly and expertly solved my problem and showed me how to DIY in the future. Great work and prices to beat any competitor. He made a chore a pleasure!
Aug 19, 2019
All Was Great With Diamond Garage Doors
City & State:
Bethesda, MD
lease see above. All was great with Diamond Garage Doors of Silver Spring.

Description of work: I pulled the disconnect cord from the track of my two garaqe door. Using the wall pad button it would not travel back on to the track. The motor would just hum. From Angie's List, about 8 PM I called Diamond Garage Doors. Jon answered the phone. I never expected him to show up that same evening. He was at my house before 9 PM and in no time all was working. I was also without a remote control as mine had recently broken. Fortunately, Jon had a Genie which was compatible after he programmed it. Jon was very personable and easy to talk with. He taught me how to program the remote control.

He also left me some spray for the hinges. I will very definitely call Diamond again if needed. The following day I went to the Home Depot for a second Genie intellicode, pre 1995. The manager called Genie for info. but got the usual recordings, "someone will be with you shortly." We waited and waited. He sat at the desk, finally putting the phone loudly on speaker. I walked around the store, returning in over an hour, and the same stale Genie message was playing. Genie never came on the phone. That was my frustrating experience with Genie for years, which I had related to the Home Depot. It took Jon far less time to fix my garage door, than being on hold waiting for Genie, without success. For lack of Genie customer service, I do not recommend having Genie garage equipment.
Jul 8, 2019
Great Experience!
City & State:
Google Reviewer
Had a great experience! Called on a Sunday and my garage door was fixed that afternoon at below the cost I was expecting! Will definitely be using this company next time I'm in need!